All Craft Books by Paulette
Painting Ceramics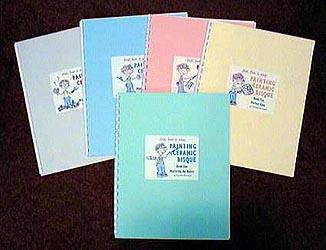 The fast, fun and easy Painting Ceramic Bisque book series was written for anyone who wants to learn (or improve) acrylic painting on ceramic bisque, plaster or wood. This series was written by Paulette Morrissey, an experienced crafter and ceramist with over twenty five years of painting and crafting.
If you are new to painting ceramics, these books are for you. If you've been painting a while but think there's more to learn and more fun to be had, or if you seem to be ''going through the motions'' - doing something because someone told you to, but not explaining why - then these books are for you too.

Learning the basics is what Book One - Mastering the Basics is all about. Once you know what you're doing, you will be able to experiment and decide how you want things to look - and how you don't want them to look. Learn what bisque is, how it differs from other paintable surfaces and what products work best on it. Learn the basics of many popular finishing techniques - enough to get you started and hooked on this addictive hobby. This book is a very useful introduction to all acrylic painting. 8-1/2'' x 11'', spiral bound, 21 pages.
BK-101: Book 1 - Mastering the Basics.... $9.95
(ISBN 978-1-893502-00-0)
(ISBN 1-893502-00-7)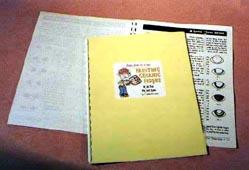 Our absolutely most popular book, Book Two - Perfect Eyes helps you get over the fear of painting eyes on your projects. You will learn, with simple step-by-step illustrated instructions, how to paint the eyes on just about any project you're decorating. Simple eyes, complex eyes, eyes for dolls, figurines, animals and cartoon characters - it's all here. This takes the mystery out of eye painting. Intended for use with acrylic painting, though the techniques shown here will apply for just about any medium. 8-1/2'' x 11'', spiral bound, 22 pages.
BK-102: Book 2 - Perfect Eyes.... $9.95
(ISBN 978-1-893502-01-7)
(ISBN 1-893502-01-5)

If you've ever admired a beautiful wildlife figurine, but were skeptical about being able to duplicate the look on your own projects, Book Three - Foolproof Drybrushing may be just what you need. Follow the step-by-step instructions and learn how to perfect this delightful technique. You will be amazed how easy it is to create beautifully finished figurines. An ideal technique for any surface with texture. This book also includes a beautifully realistic bronzing technique so easy to do it is virtually impossible to goof up. 8-1/2'' x 11'', spiral bound, 18 pages.
BK-103: Book 3 - Foolproof Drybrushing.... $9.95
(ISBN 978-1-893502-02-4)
(ISBN 1-893502-02-3)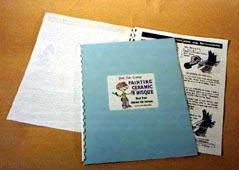 Book Four - Anyone Can Antique will show you several different methods of finishing your painting projects using readily available water or oil based products. Learn how differently one item can look using the same colors but using different methods of applying them. Learn how to mix techniques on a craft project to achieve even more variety. You will even learn how old world masters painted figurines that look intricate and time consuming, but are really quite quick and easy to do. 8-1/2" x 11", spiral bound, 18 pages.
BK-104: Book 4 - Anyone Can Antique.... $9.95
(ISBN 978-1-893502-03-1)
(ISBN 1-893502-03-1)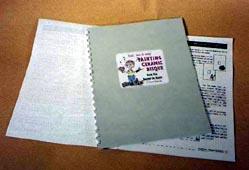 If you've been painting with acrylics for a while, you may be ready for Book Five - Beyond the Basics. This book has some creative uses for your leftover paints and even your worst mistakes. In addition, you will find a number of unique items you can create using readily available pieces of bisque, plaster or wood. There are over a dozen of the most popular faux finishes explained here - including marble, granite and concrete. All are done with very simple 3 or 4 part methods, with acrylic paints. Use these techniques all through your house. 8-1/2'' x 11'', spiral bound, 19 pages.
BK-105: Book 5 - Beyond the Basics.... $9.95
(ISBN 978-1-893502-04-8)
(ISBN 1-893502-04-X)

The Project Journal is the final book in this series. Not a how-to book but a very useful tool. You fill out a page for each project you do. There is a place to list the products you used, how you used them and in what order and a space for a photo of the finished item. There is a contents page for the names of the items. You will find yourself referring to it when you want to duplicate a project a year later, to refresh your memory about how a particular technique looked or to simply look through to chart your progess and improvements. 8-1/2'' x 11'', spiral bound, 28 pages.
BK-106: Project Journal.... $8.95
(ISBN 978-1-893502-05-5)
(ISBN 1-893502-05-8)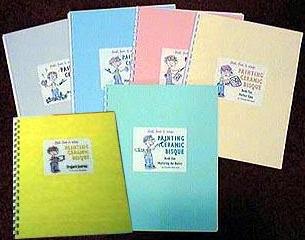 If you decide to take the five painting books then the Project Journal is yours free of charge.

Order the set.
BK-100 SET: fast, fun & easy .... $49.75


HOW TO CONTACT US


The BEST WAY is via E-MAIL.

SNAIL MAIL:
Adventures in Ceramics
P.O. Box 1211
Venice, CA 90294-1211

FAX:
(310) 823-7713
Copyright 1996 Adventures In Ceramics
Please report any problems or Comments?